The Weekly Schedule
Namaste,
A beautiful place with a Guru who dedicates his time daily to providing group seminars in the ancient way of yogic life through SivaOm Yoga in Athens Greece.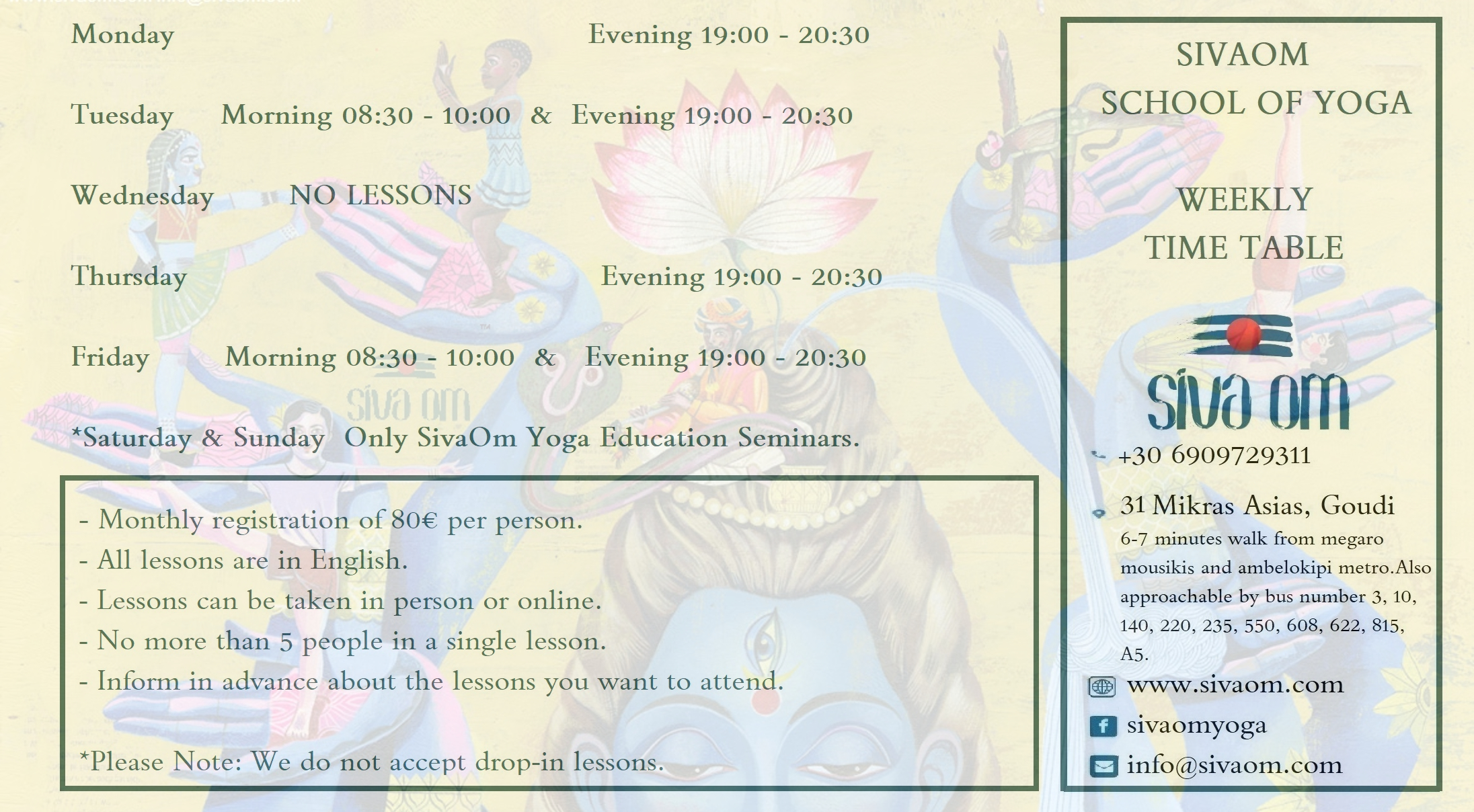 🧘🏻‍♀️Monday Evening 19:00-20:30
🧘🏻‍♂️Tuesday Morning 08:30 – 10:00 & Evening 19:00-20:30
🏊🏻‍♂️Wednesday NO LESSONS
🧘🏻‍♀️Thursday Evening 19:00-20:30
🧘🏻‍♂️Friday Morning 08:30 – 10:00 & Evening 19:00-20:30
🧘🏻‍♂️Saturday and Sunday Only SivaOm Yoga Education Seminars.
Located at 31 Mikras Asias, Goudi, it's just a 6-7 minute walk from Megaro Mousikis and Ambelokipi metro and also easily approachable by bus numbers 3, 10, 140, 220, 235, 550, 608, 622, 815, A5.
❖ Monthly registration of 80€ per person.
❖ Lessons can be taken in person or online.
❖ We offer discounts for students, unemployed, and retired people.
❖ All seminars are given only in English.
❖ Maximum 5 students per seminar.
❖ You have to book your place in advance.
❖ Any cancellations have to be made at least 24 hours in advance.
*Please Note: We do not accept drop-in lessons
For any further queries or bookings contact us at info@sivaom.com or feel free to call us at +306909729311
What is SivaOm Yoga
SivaOm Yoga is a practice of yoga developed by Guruji Shri Siddhartha Shiv Khanna through the inspiration of Adi Guru Bhagwan Shiv. This practice includes a mystical union of the 4 main branches of yoga (raja – karma – jnan – bhakti) combined in its original teachings from Ancient India, into a single seminar of 90 minutes.

When we speak of Yoga within the spiritual sense, we can safely say that this cosmic science is as old as the universe and encaptures the very essence of the universe itself. This system of yoga which has come to be referred to as SivaOm Yoga allows us to harmoniously unite the internal shiv and shakti and having achieved this divine union we proceed towards the ultimate goal of our human existence, to merge the jivatma to back to the brahman.

This system is based upon various mechanisms available to all or any living creatures. It has been carefully combined keeping in mind the diverse kind and types of individuals. it's perfect for every human, it's for people of all ages, it's for people of all times, those that have lived in the past, those living presently, and even those that are yet to be born. it's suitable for people of all characters and every temperament. There will be at least one aspect of the practice, in which the student will identify with, and through that one aspect of the practice he or she will become self-realized and god realized. Such is the nature of this practice that it has the power to liberate the soul and provides freedom from all kinds of suffering.

To that person whose body is hungry, we give him the gift of food and water. thereto, a person whose mind is hungry, we give him the gift of knowledge and wisdom, but even greater than these gifts is the gift we give to the hungry soul which gift is of SivaOm Yoga. this is a gift from the universe and surely must be shared with all mankind for it belongs to all of us equally.
Please help us spread the word by sharing the link and schedule with your family, friends, and other people.

OM NAMAH SHIVAY
Team SivaOm